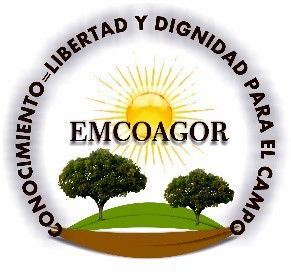 This work was carried out in 12 communities by EMCOAGOR. We assisted EMCOAGOR with our expertise in soil science and microbiology.
Manuel López Nicolás
La Esperanza, San Martín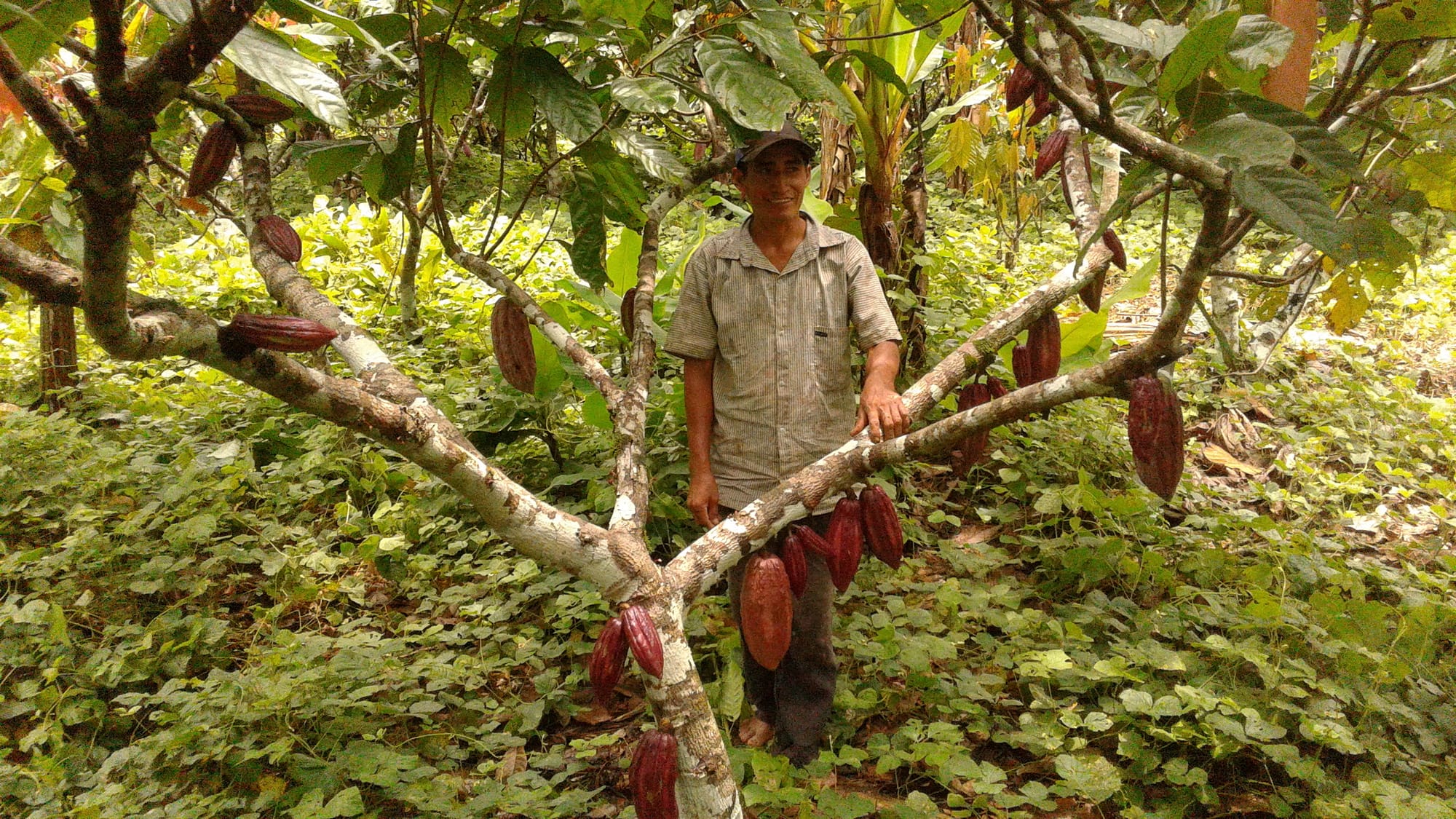 "To work with this proposal means completely changing what we have been doing up till now.
Animals come to make their nests. Microorganisms are protecting our crops. "

Manuel is very happy with his plot, but it was not always the case. Four years ago Manuel was about to abandon his plot to deforest one more piece of primary forest and start a new farm. His soil had no structure or organic matter and suffered significant erosion after repeated use of pesticides and chemical fertilizers, applied under the advice of agricultural technicians. In one hectare, his cocoa did not produce even 120 kg per year (a 6-year-old plantation managed). Realizing that conventional agriculture was not going to solve his problems, he looked at an alternative proposal. EMCOAGOR recommended him to use a cover crop in his cacao, to diversify his production and to integrate animals. With organic pest management and the application of organic fertilizers and microorganisms from the forest, Manuel's soil recovered quickly. Now the surface soil is structured, full of nutrients and alive.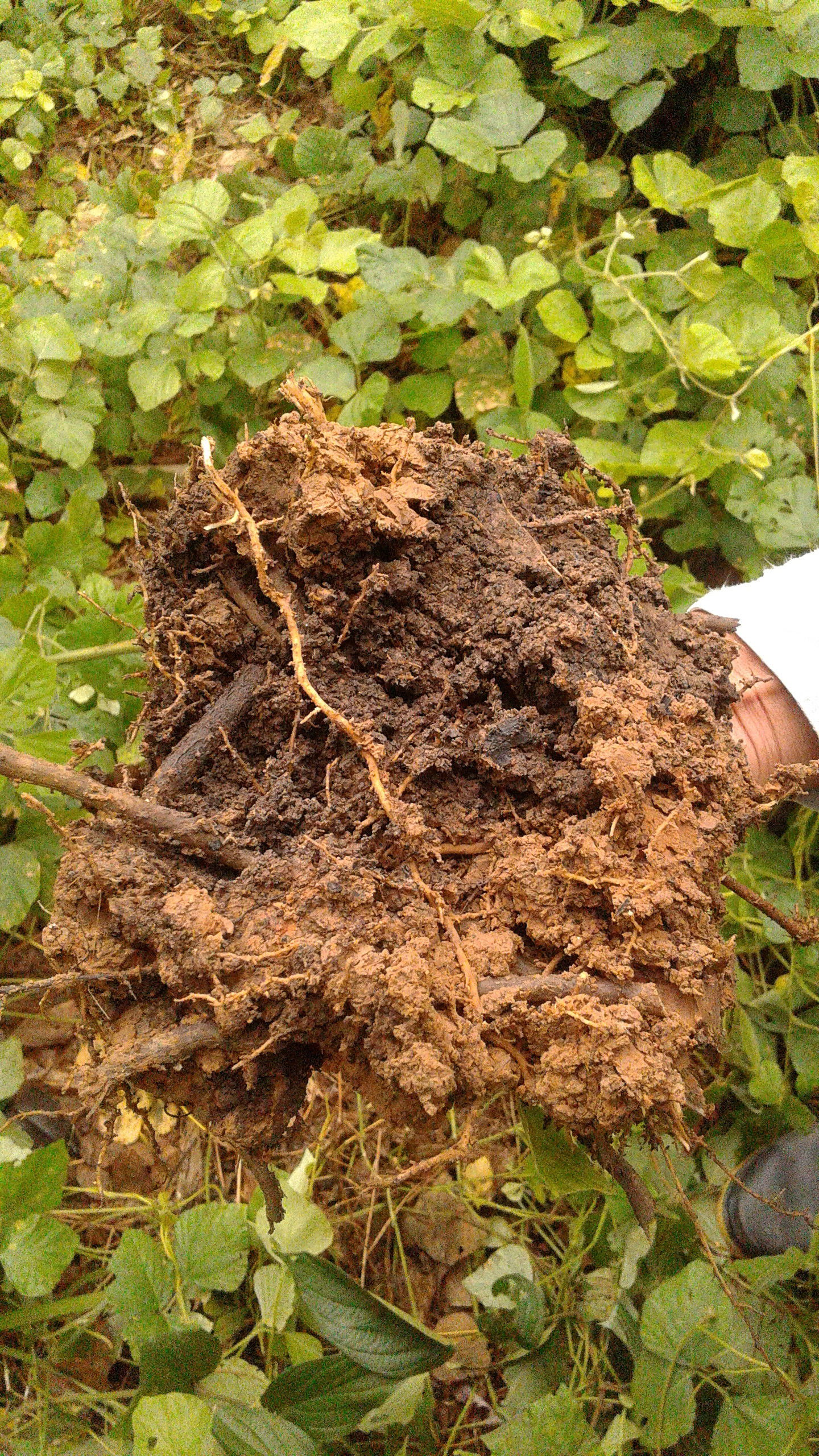 Manuel feels convinced and grateful. Now he produces avocados, oranges, bananas, cassava, noni, guava, paico, coffee, soursop and pijuayo for his own consumption. He sells citrus, pineapple, sapote and more than 750 kg of dry cocoa annually per hectare. He has more than 50 chickens, 3 pigs and 80 guinea pigs, all fed with products from the plot (sugar cane, pijuayo, cassava and banana leaves, kudzu (Pueraria phaseoloides). Every 7 months he can sell a pig for 700 soles. He integrated timber to his plot and has a total of 20 marupas (Simarouba amara Aubl.) and more than 100 tornillo's (Cedrelinga catenaeformis Ducke). Now Manuel makes his own organic fertilizer together with his family and applies it to all his crops.
Manuel soil analysis: Manuel's soil gained a 5 cm layer of organic matter in four years, his soil is also more structured. Considering the previous situation, where there was no O horizon (black layer), the improvement is consistent. With the presence of organic matter, acidity was improved (pH 6.4 previously 4.5) and soil biology: 25 epigeal worms per m² were counted and abundant fungi were observed with the naked eye.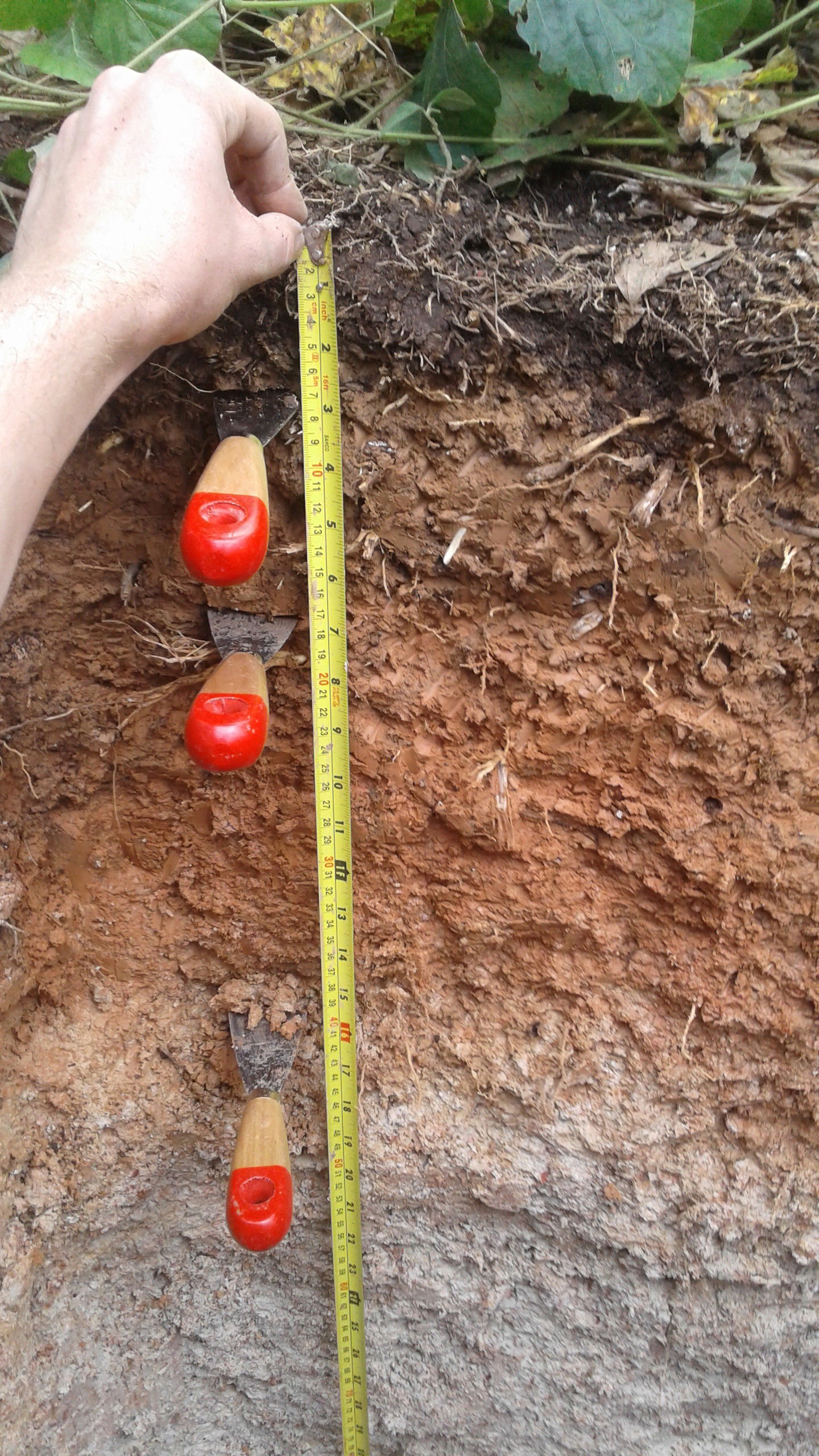 Darwin Caritimari Murayali
Lagunas, Loreto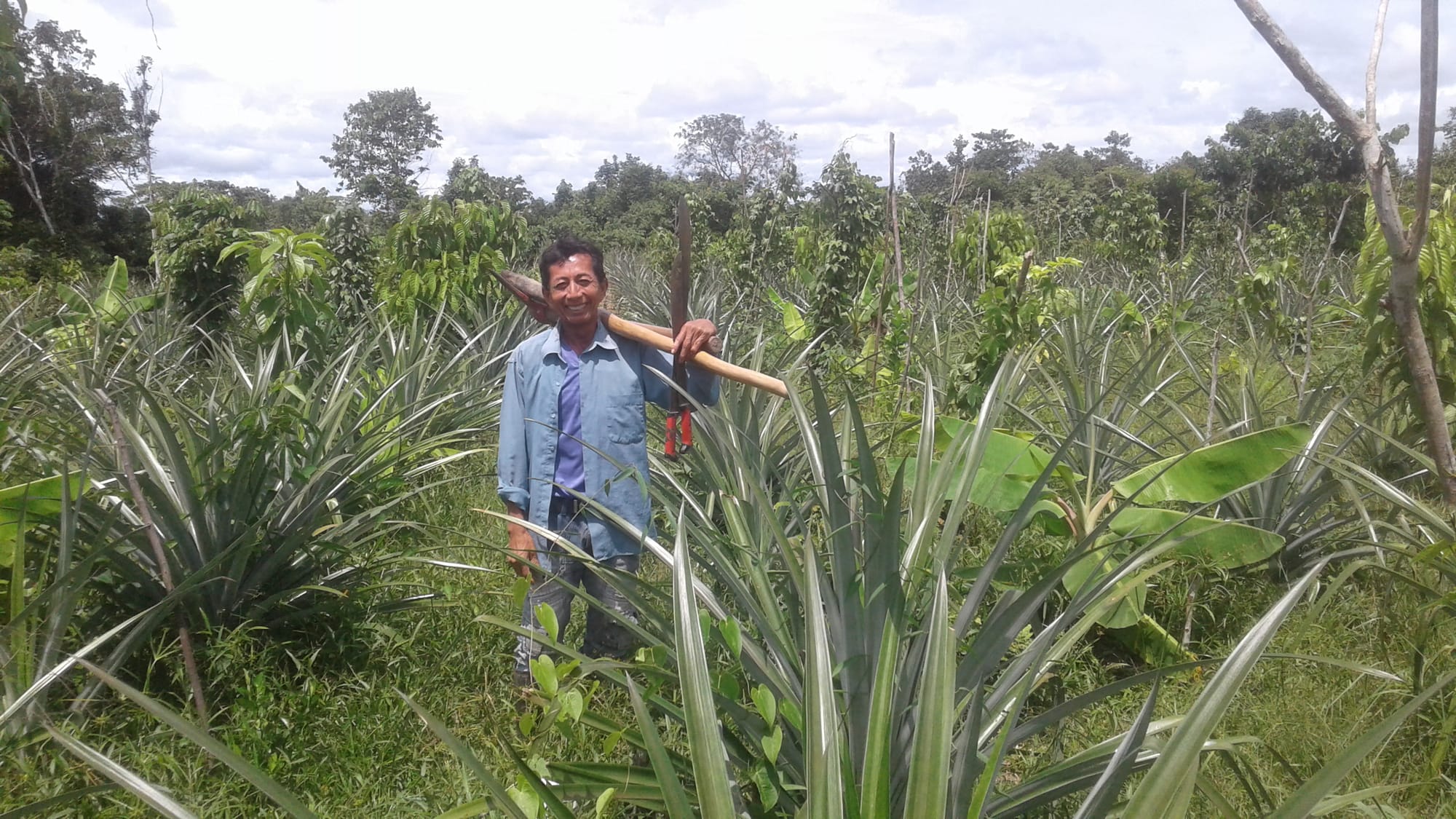 "Nothing grew here, now with the bokashi fertilizer, the microorganisms and the biofertilizers that we have applied we harvest cassava, pineapple, passion fruit, sacha papa, cocona, ginger and banana. I have faith that the cedars, avocados and orange trees that I planted will grow well . "
Darwin's story is one of a farmer with a great challenge and an insatiable drive to learn. Cows have been grazing in his plot for the last 20 years and presented a typical vegetation of degraded soils. Two years ago, he cut the grass and planted cassava, pineapple, chiclayo beans, papaya, canavalia, tornillo, umari, kudzu and plantain. He harvested a bit of cassava, a few pineapples, but his beans, papaya, kudzu, and all canavalia died. The tornillo, the umari and the banana grew in a stunted fashion. His erosion problem also worsened. Following the advice of Arber Merino Sandoval, Darwin applied forest microorganisms to his soil (once a month), aerobic fertilizer and biofertilizers (every 15 days) to his surviving and newly sown plants. He observed a massive difference after 6 months of continuous application. The surviving crops improved and the newly planted ones grew better. Of the 100 newly planted bananas, only 5 had died, in addition, the growth of his banana's was clearly superior with aerobic fertilizers (see gallery). Darwin now has a higher crop diversity on his ¾ hectare.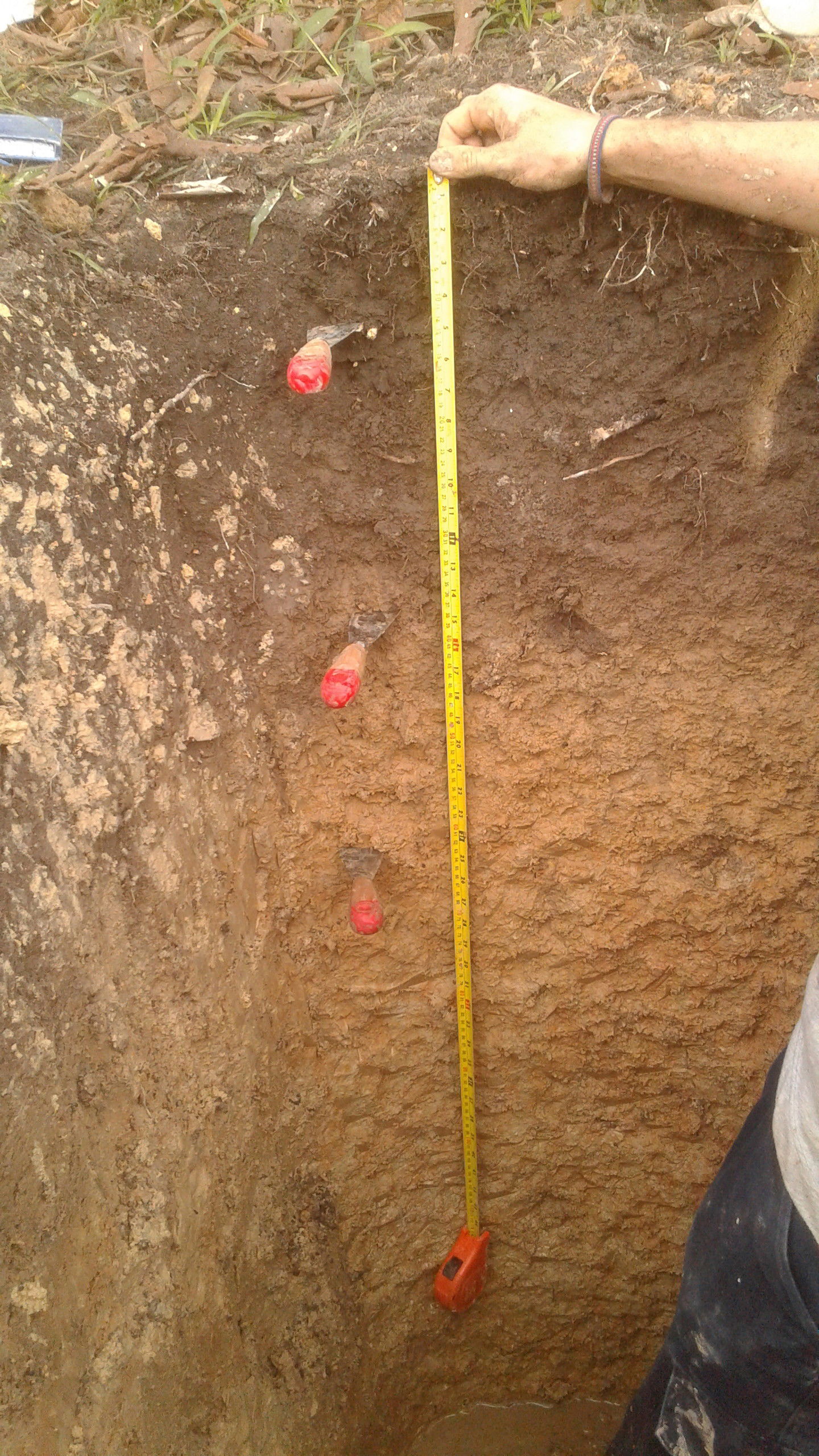 Plot with umarí, oranges, 10 varieties of bananas, passion fruits, avocados, mandarins, sacha papa, chama, sweet cocona, ginger, lemon verbena, cassava, mucura, lanzetillas, ayahuasca, sweet chili, 20 cedars (Cedrela Odorata L.), 30 tornillos (Cedrelinga catenaeformis Ducke), 100 guavas (Inga spp.) and 2000 pineapples.
Javier
Los Ángeles, San Martín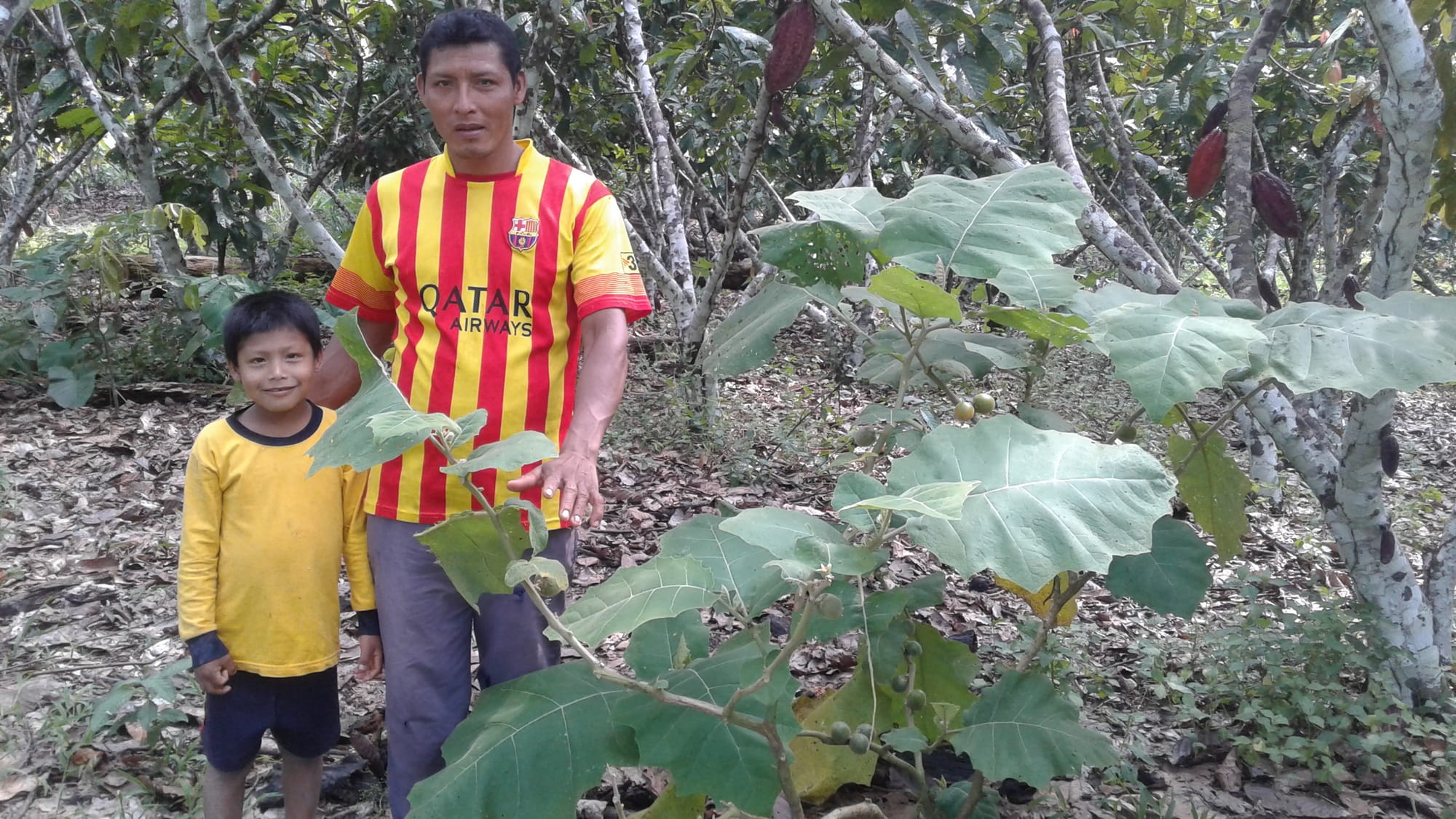 "They not only come and tell us what to do, they accompany us in making our own fertilizers and this makes all the difference.
They have come to teach us that was hidden from us all this time. "
Inspired by Manuel's positive experience, 10 farmers from Los Angeles community joined forces with EMCOAGOR in 2017 and began manufacturing biofertilizers.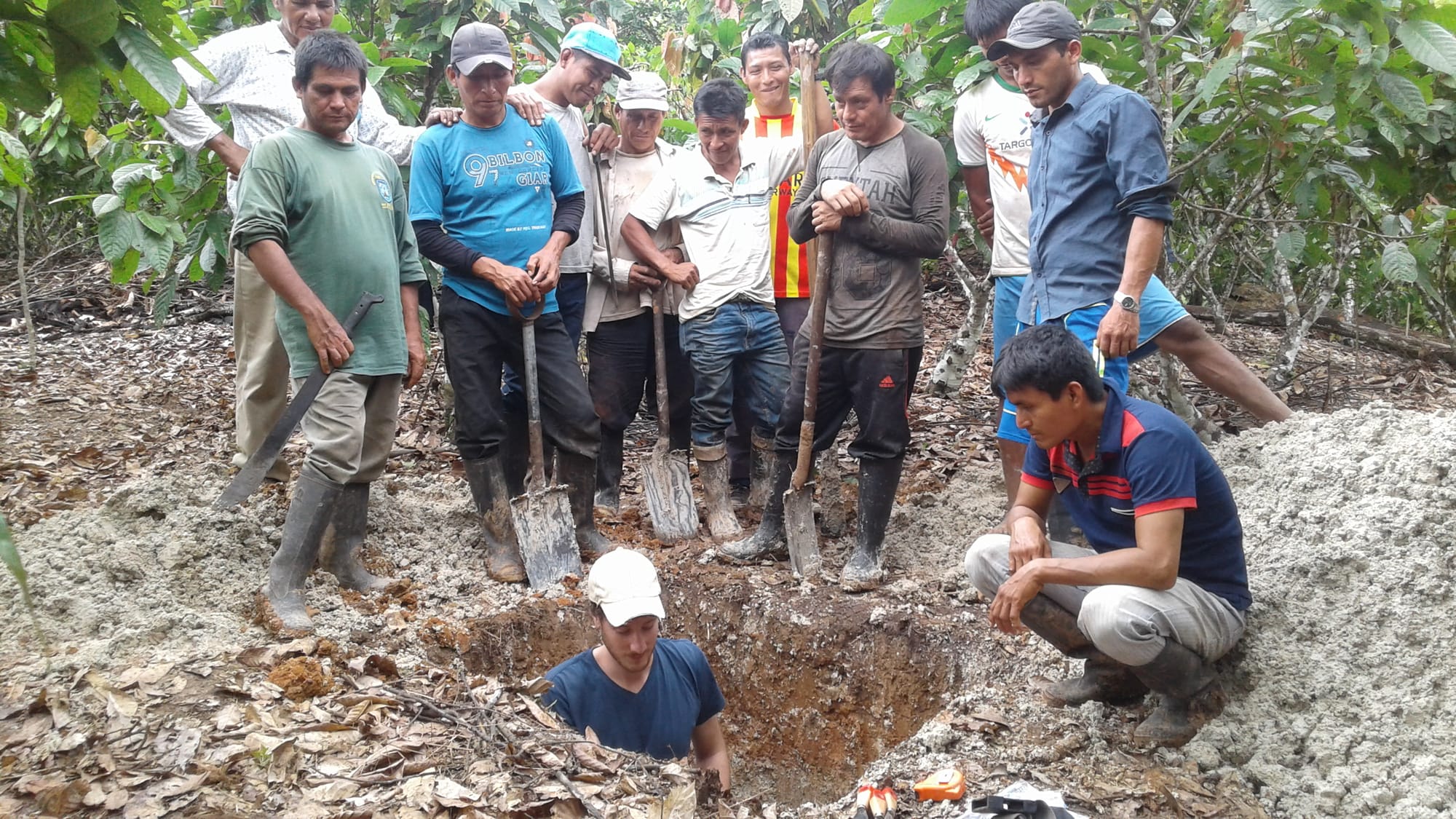 Javier has 4 hectares of cocoa, ¼ ha of rice and ½ ha of beans. He also produces corn, bananas, cocona and is recently reforesting with cedar (Cedrela Odorata L.), marupa (Simarouba amara Aubl.) And copaiba (Copafeira officinalis) with a total of 100 trees per hectare. He has a horse and 30 chickens that he raises with his corn, they organically controls pests.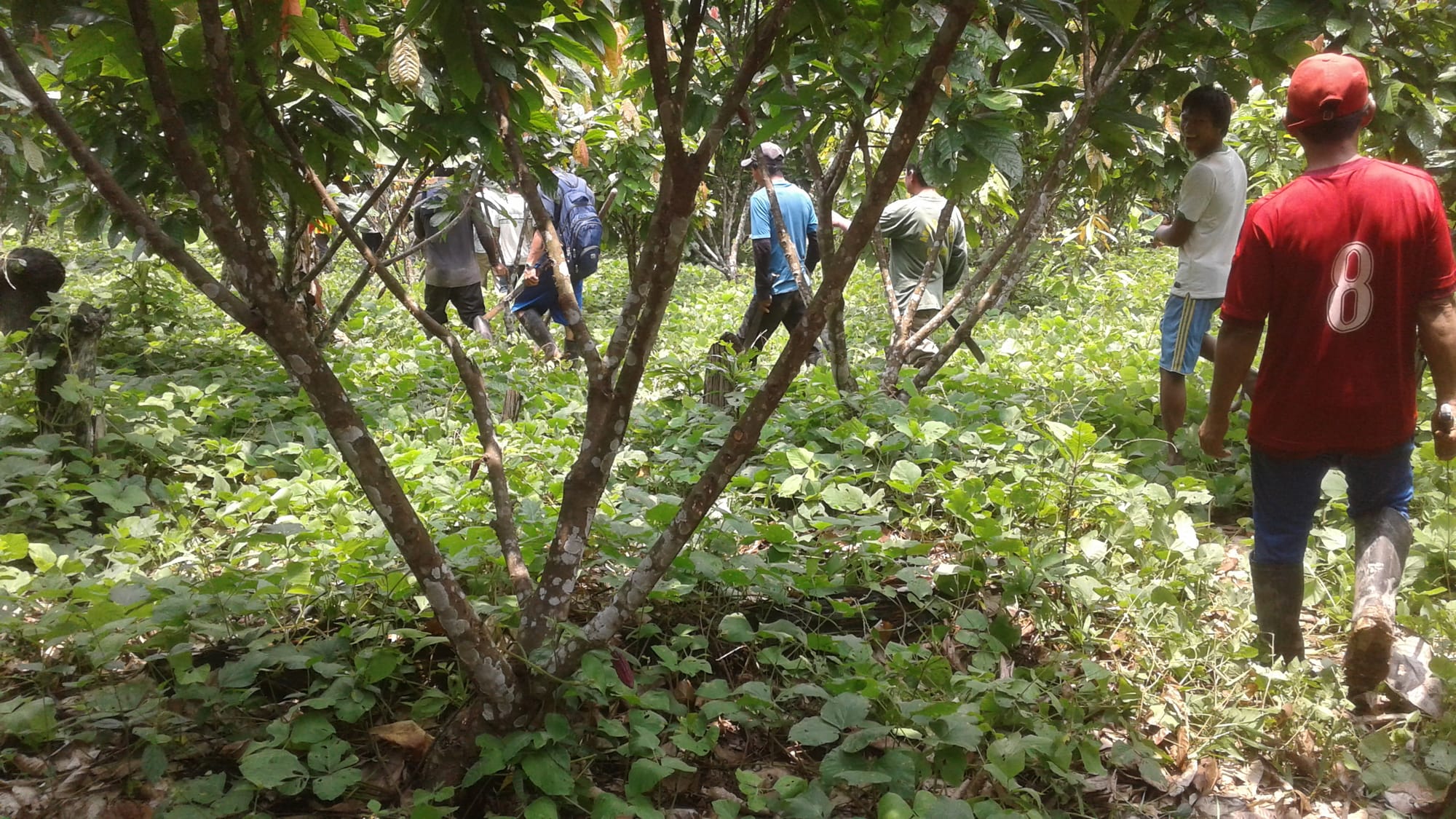 Although improvements are needed, Javier has been able to observe the difference with his previous management practices. From the first year after the intervention, the incidence of moniliasis (Moniliophthora roreri) and drought decreased thanks to the cover in his cacao field. Now Javier produces an average of 800kg of cocoa per hectare (double) and remains convinced of EMCOAGOR's intervention.
Wilmer Estela Gálvez
Cotuyacu, San Martín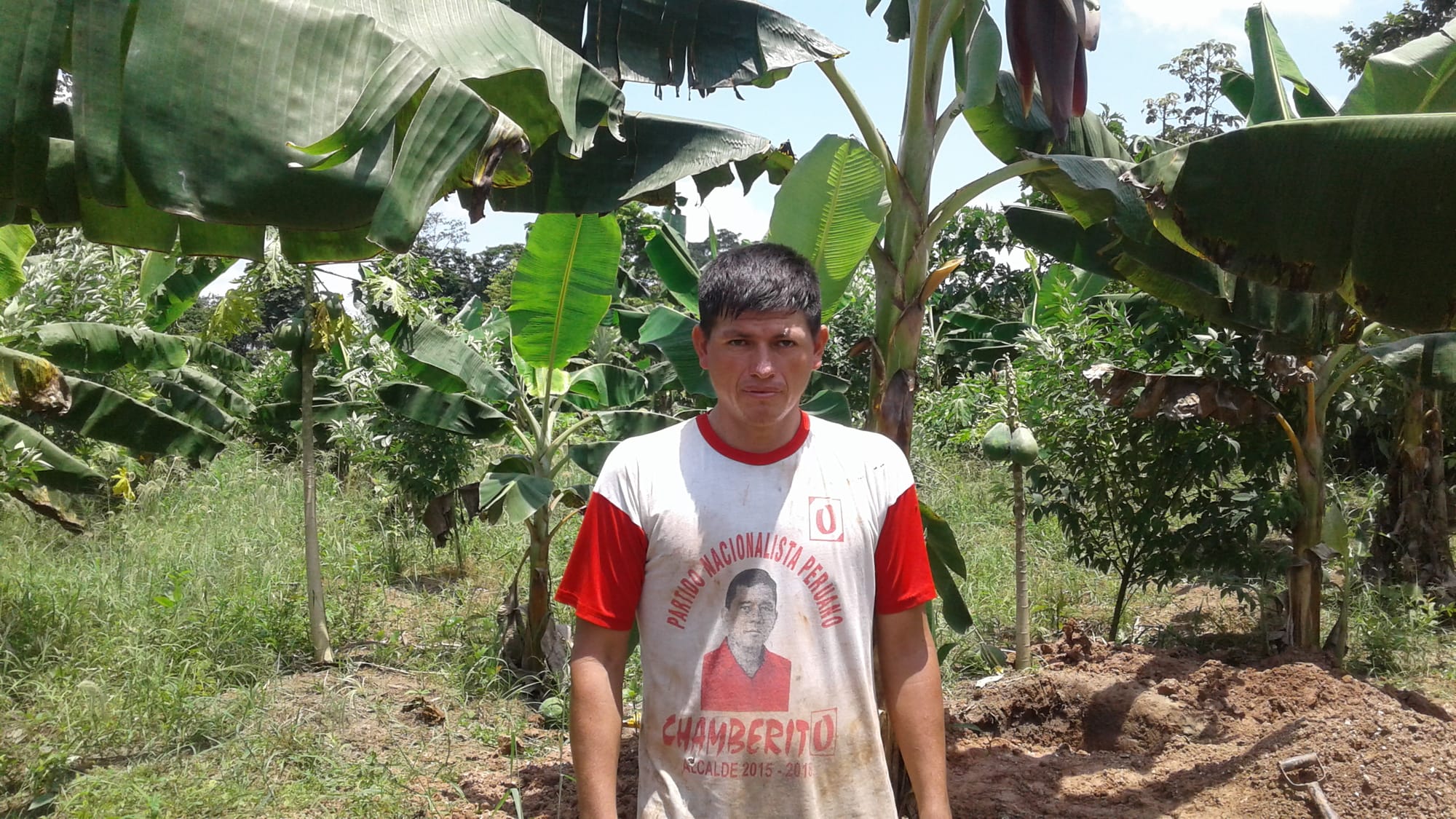 "Before the intervention we didn't know anything, now I am grateful for what we have learned."
"Here nobody was born with goods, we have to suffer to have things. As a parent I do not feel regret because having a child by your side is a joy, it gives me encouragement to work so that one day my daughter can be a professional, and not suffering on the farm. "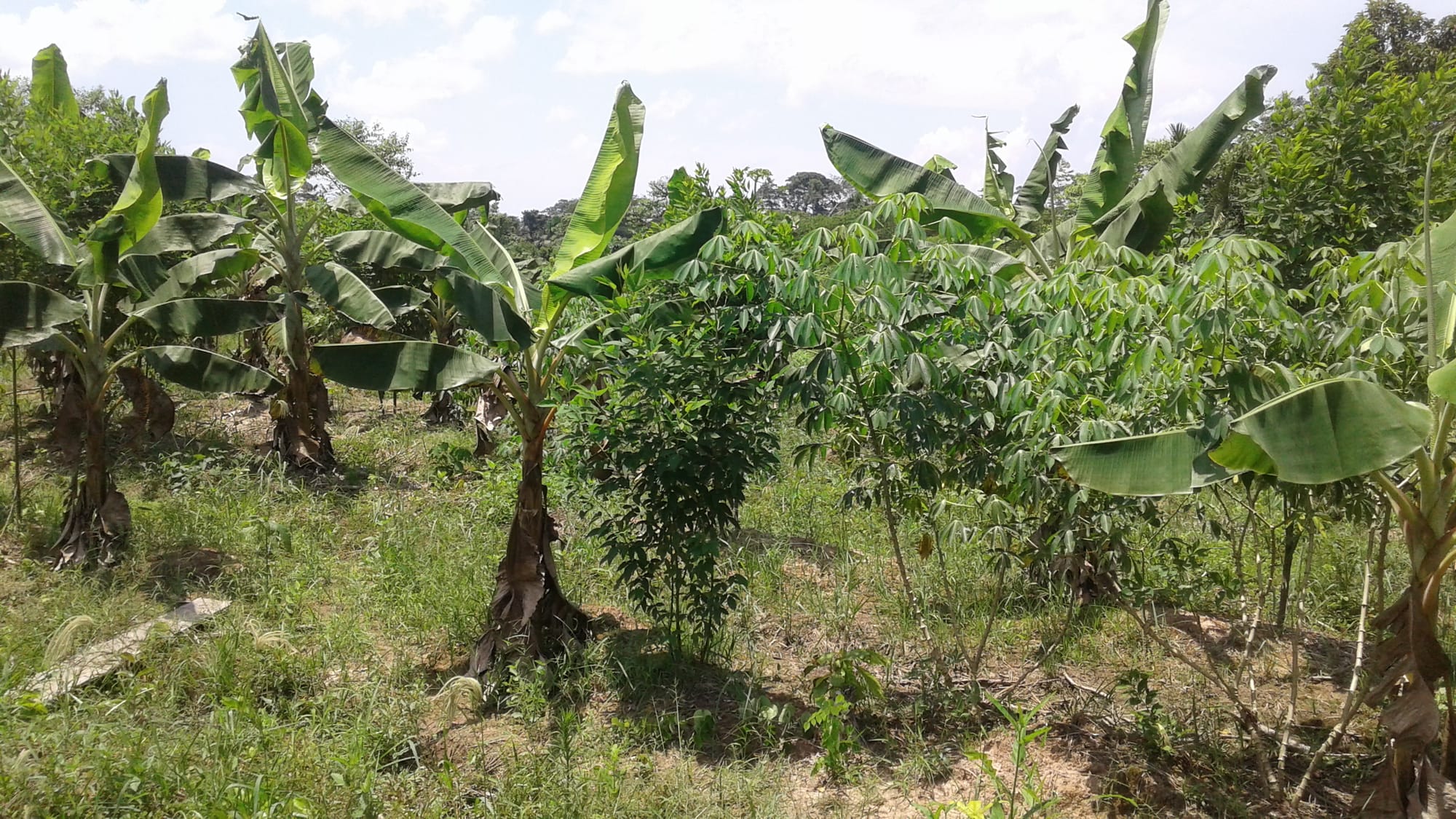 Located at kilometer 40 of the Yurimaguas road to Pongo, Cotuyacu is a village where farmers are mainly dedicated to rice cultivation. Wilmer inherited a 3 hectare plot where cattle roamed for 25 years and where conventional papaya was grown for 2 years with intensive use of herbicides. His plot produces bananas and lemons but the lemon price varies a lot: 100 lemons are sometimes sold at 40 soles (12 USD) but the price can go as low as 25 soles (7USD). It is because of these low and fluctuating prices that Wilmer wants to diversify his production.
Weeds typical of degraded or compacted soils grow on Wilmer's plot. The low diversity of weeds indicates a high degree of degradation. Although the pigeon pea (Cajanus cajan) is growing well, the plot could benefit from more cover and pruning plants. Wilmer is determined to achieve food security for his newborn daughter and wife.
Felipe Merino Murrieta
Barranquita, San Martín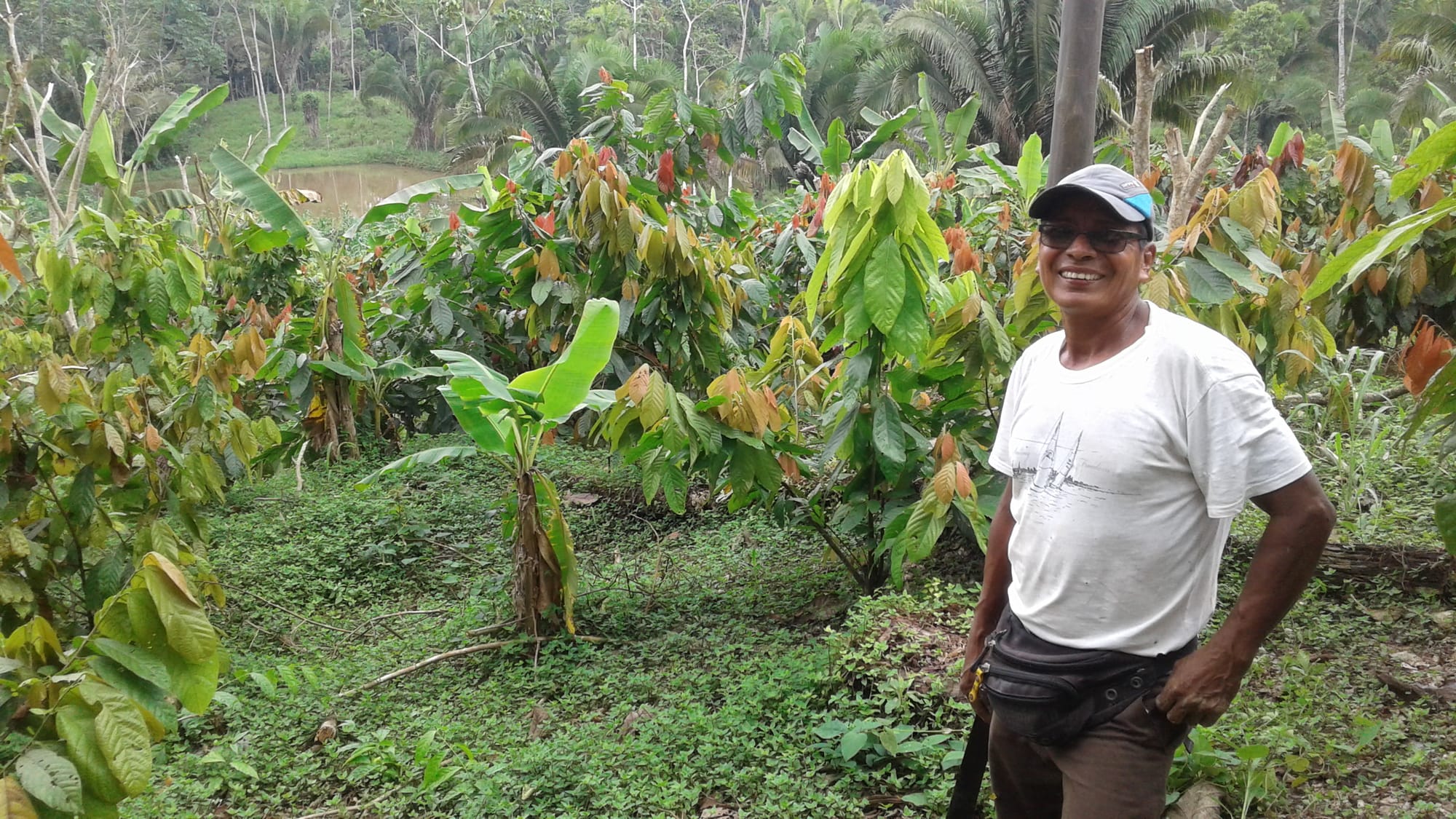 "I am convinced that agriculture has to be organic and sustainable. That is why I am diversifying my cocoa with timber and fruit trees. Although I will not take advantage of the timber, I am glad to think that my grandchildren will enjoy it."

Felipe is a multifaceted man. He drives a van commercially, runs a rice mill, takes care of his pigs and cattle, and cultivates his farm. Felipe has 2.75 ha of cocoa and 0.5 ha of crops of staple crops (cassava, plantain, corn). Felipe produces 700kg / ha of cocoa per year and his cocoa is quite diverse: in the part that is now entering the production phase (4 years old) you can find taperiba, caimito, grapefruit, lemon, guava, orange, mahogany, capirona, papaya, banana, cocona, shimbillo, pijuayo, coconut and mango.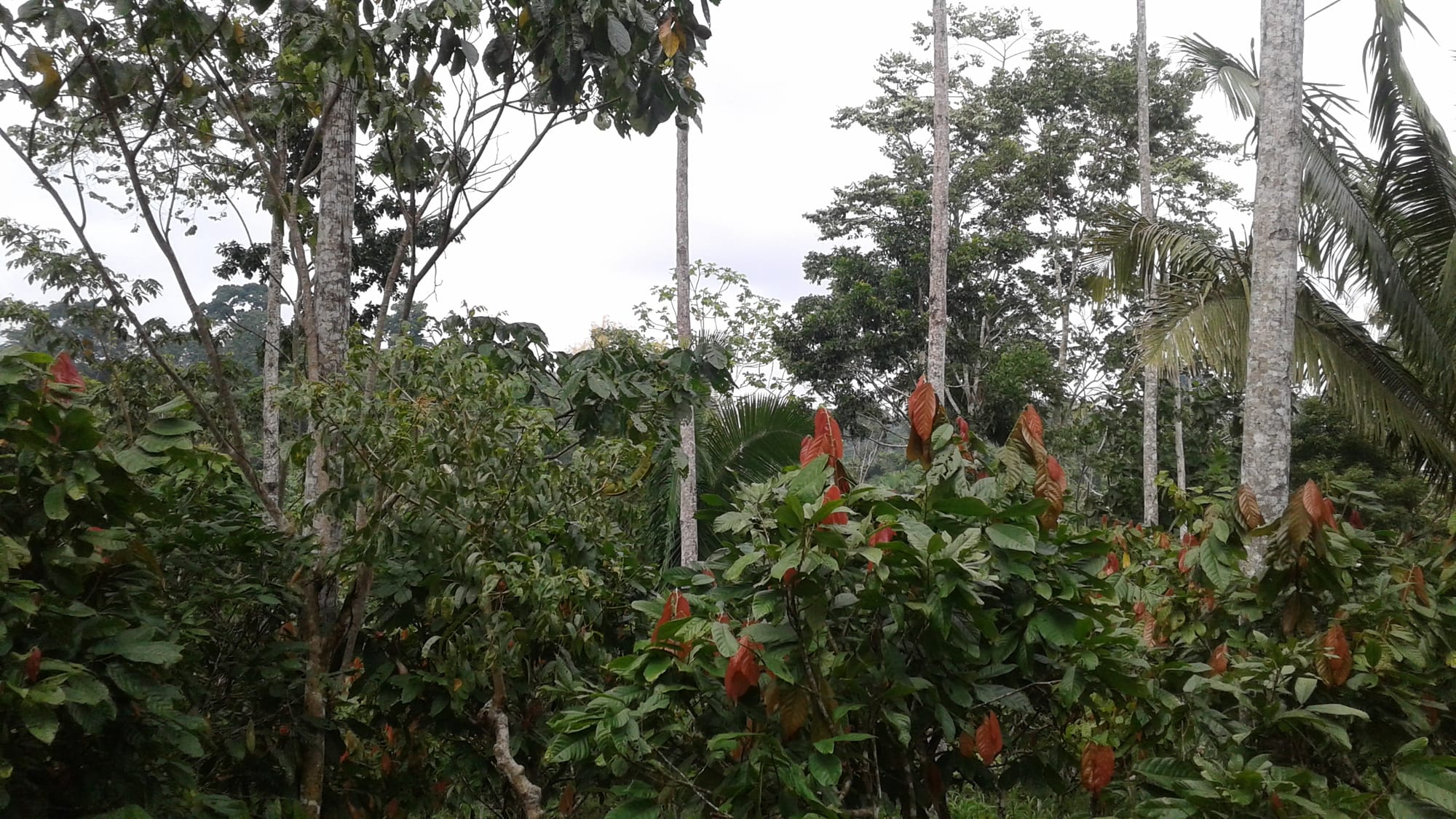 In the oldest part of the cacao plantation (10 years old) you will find bolaina, cedar, hualaja, capirona, teak, avocado, aguaje, shimbillo, icoja and many more. Felipe cares for 150 guinea pigs, which he feeds with erythrina, kudzu, grasses and rice powder. He also has pigs (14 adults, 11 juveniles) to whom he gives dust, corn and mineral salts. He truly examplifies the prosperity strstegy through diversication of income.